Water Desalination Plants
---
Gabriel Gaide's vision for the realization of the Galaxy City™ can incorporate progressive new insights and technologies that, when realized, create new opportunities and wellness. Gabriel Gaide realizes that all options should be kept open and continue research and study of different models and their economic and technical feasibility, while moving forward to carbon neutrality of the Galaxy City™. By thinking outside the box, developing alternative resources for desalinated water, finding the right innovative solutions, and combining them with known models, new water sources can be brought to Galaxy City™. Water from the additional sources can be transported into Galaxy City™ by different means of transport; on wheels, rails or pipeline, or finding useable geothermal aquifer.
Due to shortage of reliable water resources and drought conditions in the southwest of the United States, retrieving water from the other remote geographical sources or using oceanic water can be made viable by using a combination of NES & Partners desalination technology combined with Hydrid Deep Single Well Geothermal (DGSW) energy plants. Desalinated water can be transported into Galaxy City™ cost efficiently proving sustainable, humanitarian solution, and without endangering the environment. The DGSW power plant(s) utilized to operate desalination and water pumping facilities to deliver water to Nevada and Galaxy City™ will enhance people's lives along the pipeline route by providing electricity and possibly water and produce additional revenues to the project.
The NES & Partners' Telesis technology for seawater desalination is effectively inexhaustible Natural Regenerative Capital (NRC) in the form of subsurface water – harmlessly abstracted from the saturated sands beneath near offshore seabed. The intrinsic energy of the subsurface water is first harvested to serve a variety of purposes including decarbonized, lowest cost cooling in summer. All shut-down events; storms, red tide, oil spills and swarming, have no effect to the technology, it provides natural and continuous filtering with low maintenance. The technology is discreet, invisible shallow geothermal latent energy providing naturally pre-treated water requiring no chemicals or biocides for the desalination processes.
Legal issues involving multiple states such as easements will be time consuming; however, by collaborating by using existing political and business connections, Galaxy City™ project shall overcome them and provide added value to the state or landowners from the benefits the water and electricity production bring into the area.
The Galaxy City™ project including the water pipeline project will produce significant amounts of carbon credits, which can be used as leverage to obtain multi state and federal government involvement. Furthermore, the carbon credits can be globally tradable, which will bring meaningful additional revenues to the city. Galaxy City™ will develop, own the water desalination, and power plant(s), transmission and distribution systems which also generate substantial revenue for the city.
N.E.S. & Partners have desalination and water treatment technology solutions that are environmentally friendly and can cut down the system and operational CAPEX requirements meaningfully for Galaxy City™.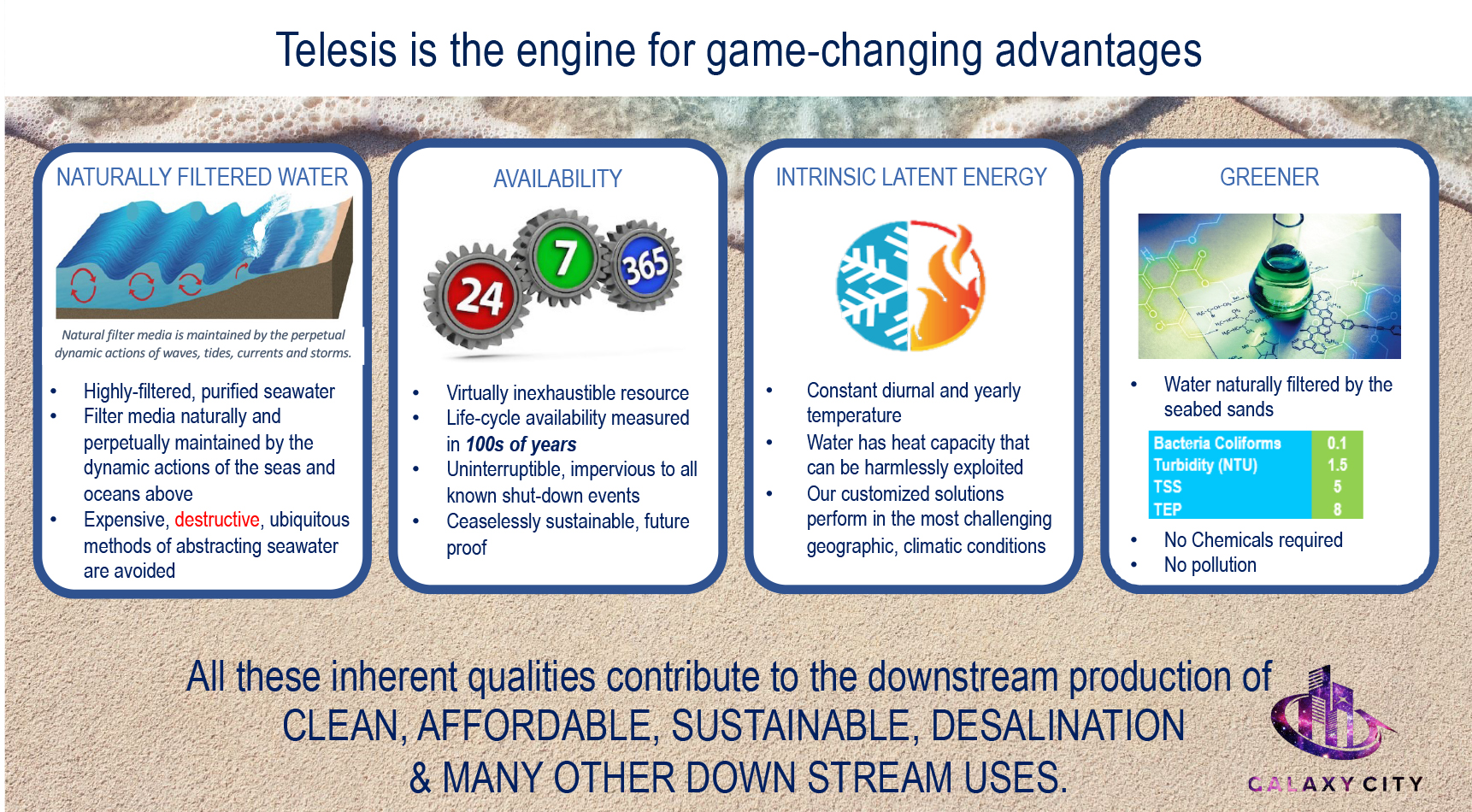 ---