NES Hybrid DGSW Energy Plants
---
Galaxy City™ will be the first Net Zero" city to be entirely powered by zero emission renewable energy. Galaxy City™ plans to develop and implement a wide variety of distributed energy resources and technologies including, but not limited to, Hybrid Deep Geothermal Single Well (DGSW) energy plants for baseload, hydrogen and combined heating and power (CHP) production, Polar PV, SMR modular nuclear power plant, smart HVAC systems, biomass/biofuels, chillers and heaters, , battery storage modules, electric vehicles charging grid and back-up power storage, voltage/frequency regulation and black-start capability in case of an outage or blackout conditions in an unlikely event of natural disaster or accident, and of deliberate occurrence, or planned preventative maintenance. Galaxy City™ will build, own and operate the zero carbon emission renewable power, energy plants and hubs.
Baseload electricity will be generated by NES & Partners Hybrid Deep Geothermal Single Well (DGSW) technology on a 24/7/365 basis. As a side stream production hybrid DGSW will produce sustainable green hydrogen (H2) by electrolysis and by other green technologies to provide energy to the urban environment and in eFuels for vehicles. An on-site micro-grid will be built to ensure complete on-site power reliability, security, and independence from the external power grid. The NES & Partners' multiple Single Well Geothermal spot energy units form a Galaxy City™ GeoExchange, where a fluid is circulated down the bottom of the borehole and back through a centralized pipe. The heat can be extracted in this manner from a single wellbore. This technology has been used widely for direct-use heating and cooling applications, when the process is reversed: heat is extracted from the air and transferred through the heat pump to the ground loop piping. Overall, the GeoExchange system will provide reliable and sustainable centralized cooling and heating systems for the entire Galaxy City when coupled with baseload produced by hybrid DGSW.
The NES & Partners Green Hydrogen H2 power plant will be using proven electrolysis and other green technologies for hydrogen generation from the base load generated by hybrid DGSW geothermal power plants. The H2 processing station (including piping, hub, and storage facility) will be build. A World-Class and State-of-the-Art Cleantech Energy Center is built to assure the renewable energy generation and distribution powering the entire Galaxy City™ providing an intelligently planned sustainable development platform toward carbon neutrality.
The hybrid DGSW geothermal single well technology utilizing patented advanced drilling system coupled with the Organic Rankine Cycle (ORC) system allows viable generation of electricity from low and medium temperature heat sources. This technology utilizes low heat recovery that would otherwise be wasted. The optimized geothermal energy use and utilizes even small energy streams to generate electricity, district cooling and heat, and eFuels. This combination makes the efficiency and effectiveness of the DGSW Geothermal power plants exceptionally good.
Solar PV and wind energy will be distributed throughout Galaxy City™ on buildings, parking areas, and parking structures to provide supplemental power to the facilities.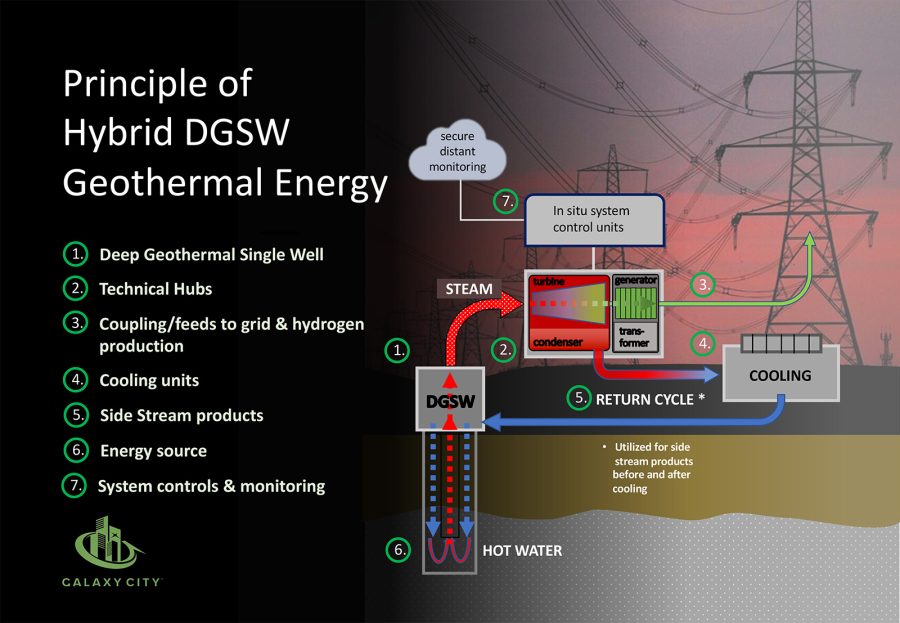 ---